Circular Polarized Yagi Antenna SCY400G10
Circular Polarized Yagi Antenna SCY400G10 is purely designed to to provide a frequency range of 380 to 430 MHz with direct ground protection.
Specification:


Model: SCY400G10

Electrical Specification

Frequency Band
380-430 MHz
Bandwidth
10 MHz
Gain
10 dBi
Polarization
Circular LHCP / RHCP
Radiation pattern
Directional
Beam-width
50°
Front to Back Ratio
18 dB
VSWR
≤1.5:1
Impedance
50 ohm
Maximum Input Power
250 watt
Lightning Protection
Direct Ground
Mechanical Specification
Material
Aluminium Alloy
Mounting Hardware
Stainless Steel
Weight
4 Kg (8.8 lb)
Wind Rating
180 Km/Hr
Length
1600 mm
Support Boom Diameter
25 mm (Al-Square pipe)
Elements Diameter
12 mm (Al-Round Pipe)
Radiating Material
Brass
Mounting Pipe Diameter
51 mm (2″ inch)
Connector
N-female

Environmental Specification

Operating Temperature
-30° C to 70° C
Humidity
0 to 95% RH
Antenna Report:


VSWR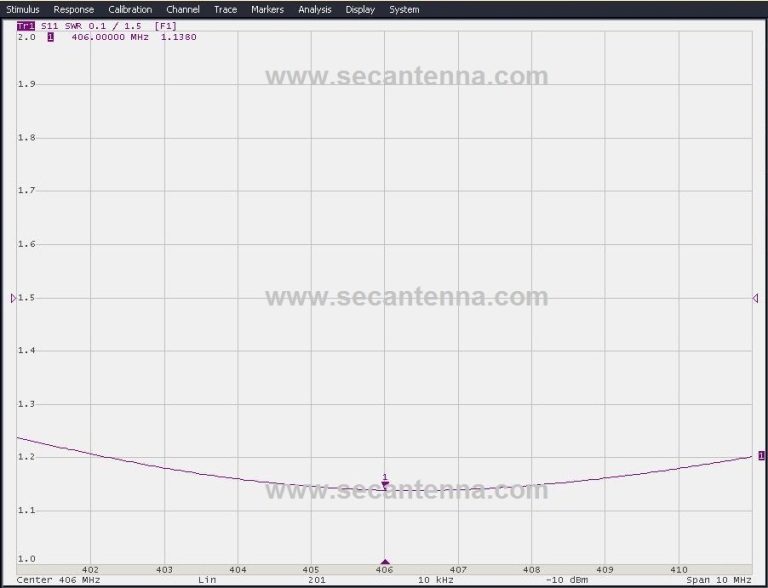 The circular polarized yagi antenna SCY400G10 has circular polarization. It also has a directional radiation pattern with an impedance of about 50 ohm .It has maximum input power of 250 watts.
It has a mounting software made up of high quality stainless steel . The radiating material used in this device in of outstanding quality of brass.
We are pleased to supply these antenna with, customized connector, any specified paint colour or any custom finish as per customer request.
Our antennas are designed and manufactured to provide the best gain figures, for the requirements of the band and for the specific research application where the antenna will be used.
We are specialized in making antenna with efficient radiating properties . We provide distinctiveness in various designs of antennas better than our contemporary competitors. 
In addition to the above mentioned features  providing with the best of our services is our first and foremost priority. we believe in the advancing antenna technology and are obliged to improvise the electronic antenna field with the latest captures of creativity.Our motto is the consumers satisfaction and providing the ideal antenna summed up with the advancement of technology.